Last Updated on January 16, 2023 by hassan abbas
The living room is probably the most important place in your house after the kitchen. It is where you get to have a nice time with family or your guests. It is the first place you go to after coming from work, school, or any other place to relax before you involve yourselves in doing other things. Thus, making your living room inviting is a great idea as it will make you feel comfortable and happy and also make your guests feel welcomed.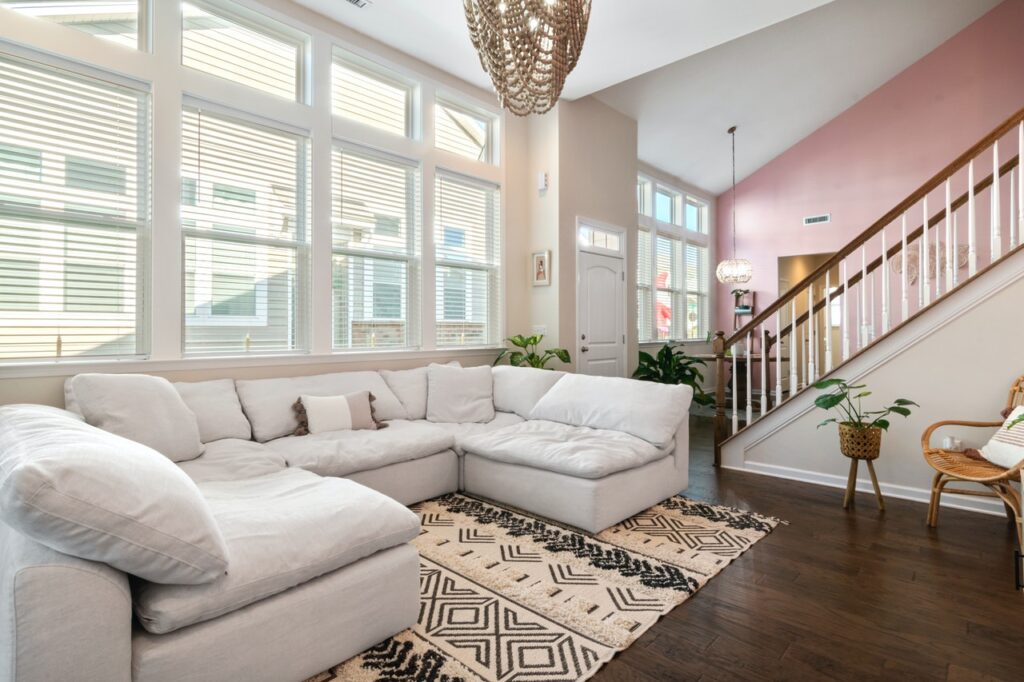 Add personality to your small living room and make it more inviting with these few tricks.
Add Some Scent
A living room with a great smell is always inviting. When you enter such a room, you can't resist but smile and even want to stay longer. You can add some scent to your living room by:
•Scented Candles are the easiest way to make your living room smell incredible. Make sure you buy candles naturally made from clean wax like soy or coconut wax.
•Air Freshener- You can use air freshener as it's an inexpensive way to make your living room smell nice and more inviting. Please choose the best scent and spray it in your living room, then open your windows or fan and let it distribute and circulate the air freshener.
Making your living room smell great doesn't have to cost you a lot, as you can choose to plant some flowers which you can harvest and use anytime or use other environmentally safe ways.
Add Pop of Colors
Colors make a room cozier and beautiful, especially warm colors. You can paint an accent wall of your living room with a coat of paint. Use any of your favorite colors or ask an expert to help you so you don't mess up. You can also toss a few pillows that mix and match in color or have floral patterns, depending on your furnishings.
You can also spread color underfoot by using an area rug. You can find the most stylish area rugs online perfect for adding a pop of color to your living room. You're sure to find one that will match your beautiful home and choose the style, size, and color you want to match your pieces of furniture or the color of your wall.
Choose Your Furniture Wisely
Furniture plays a big role in your living room as it's where you can comfortably sit and rest your arms while watching TV or catching up with your guests or loved ones. For your small living room, you do not need big heavy sofas that will take up the whole space.
Choose slender, leggy furniture and gather them in the center of your living room to create more room. Arranging them in this manner makes the room lively rather than congested and boring. Afterward, add sleek pillows that improve your living room's vision and make your furniture look comfortable.
Display Photos
Each type of picture sends a message and affects the person who sees them. The images can evoke an array of emotions, meaning you need to choose the right pictures for your living room. You can choose a picture of your pet, family, or art you love.
Since your living room is small, avoid placing a big picture that will cover your entire wall. You can hang a single framed wall art or a group of small framed pictures. Ensure that your living room pictures complement or blend with your decor style.
Get Rid of Clutter
Your living room is already small in size, and the last thing you want is unwanted materials like boxes, books, or papers to take up space. All this can make your living room look disorganized and unwelcoming to your guests or loved ones.
Clutter can make you unproductive and send a bad message to people. Clean up and get rid of unwanted things, or rather hire an organizer who will provide professional help to declutter and arrange the small space you have.
Conclusion
Your home should always excite you and act as a haven. You can always make your small living room inviting by adding scents, and photos, removing clutter, and selecting good furniture.You can complete the look by adding vibrant flowers to your living room. You can ask your florist to choose the best for you, enhancing the appearance of your living room and its smell.
Apart from this if you are interested to know more about Strip Lights In Your Living? What Beautiful Features then visit our Home Improvement category