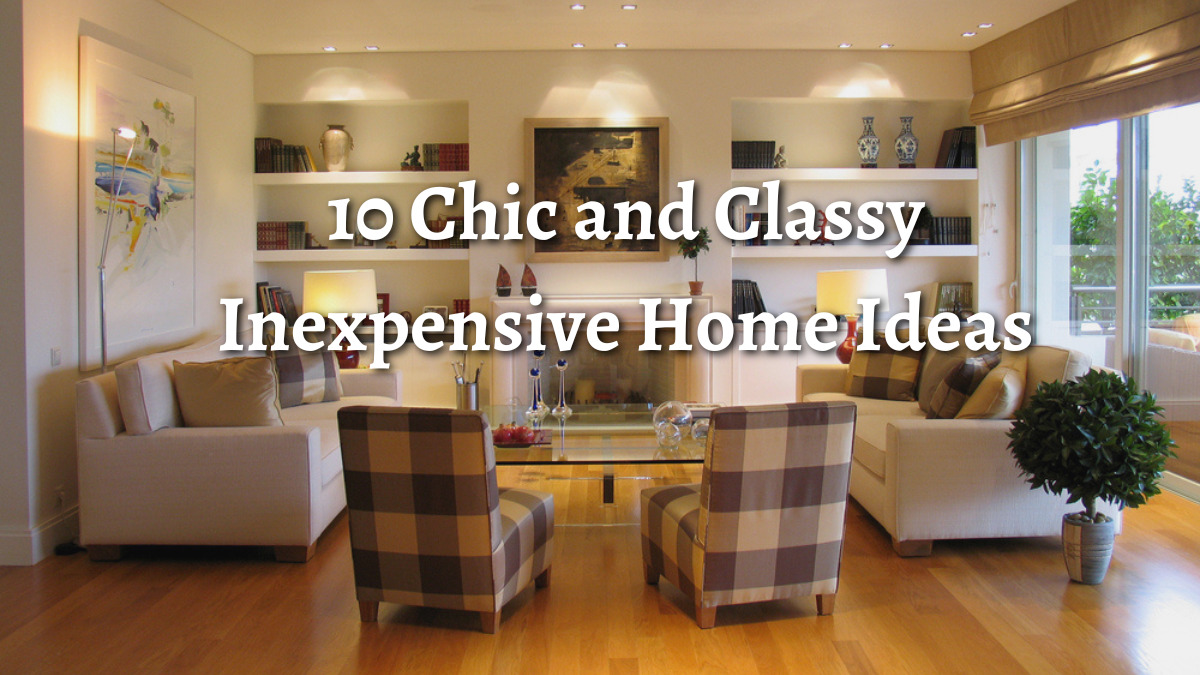 When decorating a house to make it more luxurious, is usually perceived as an expensive thing to do. There are also some steps to do that do not require spending a lot of money in order for your home to look classy and luxurious. When it comes to chic design in interior means it is elegant, fashionable, and on-trend. Though the word comes in french, it can practically describe an updated or modern design. 
Before changing anything or adding some objects to make your house fancy, consider the factors first such as whether will it match the theme of your house, the color schemes, the arrangement, and many more. Here are some ideas to consider to make your house look chic and classy without having to buy expensive items and renovations.
1. House Paint Ideas
One of the most challenging parts of making your house match your previous decor and furniture is choosing the correct paint color. Paint is an inexpensive upgrade homeowner can do to upgrade the overalls of their houses. When choosing a color of elegance, always use bold, dramatic, and soft colors to instantly add elegance to your home. Choose a color that will be based on your personality. And lastly, without damaging your wallet a lot, add small objects or accessories that are in the color black to blend with the color of the paint that you chose.
2. Home Pillow Ideas
Pillows usually can be found in bedrooms, since it is used for sleeping purposes only. However, adding pillows to your living room, or the sofa will add comfort and elegance instantly. For example, if there is a visitor in the house, due to the added pillows on the sofa, will provide a cozy and comfortable vibe to the visitors. The down-filled pillow is a great choice to insert into the furniture. And instead of using some overly large-sized pillows, use the correct size that will blend with the furniture and the surroundings.
3. House Lightings Ideas
The majority of houses that are made through a contract usually have regular lighting fixtures, which are very common and it becomes boring when you have seen the design over and over. Using a modern approach to lighting fixtures will make your house upgrade to another level. For example, use recessed lighting. This type of lighting is not visible to the surface of the ceiling area. It is already built in into the ceiling.
Another example is the use of LED. It became popular nowadays to use LED since it is quite cheap and it is a high-end type of lighting that can last for a long time. It can also change the color that you can customize depending on your mood. Lastly, use lampshades and table lamps. It is one of the best accessories to have in your house as it gives this expensive vibe to its surroundings. In addition, in order to save money buying light fixtures, try to buy in thrift stores, online shops, and yard sales as it can save you a lot of money. Illuminating every area of your home will surely give your house a classy look.
4. Home Furnitures
People tend to misinterpret that buying new furniture is expensive and will be impractical to do. Buying high-end furniture will cost a lot once you have bought them, but it can save you a lot in the long run. The price speaks for itself. It is expensive because the materials used in it are high-quality and it ensures that it is also high-quality built. Buying cheap furniture will truly save a lot of money. However, these types of furniture are built poorly. As time goes by, it will slowly tear itself apart and you can see the difference between cheap furniture and expensive ones.
To avoid having regrets, always buy high-quality furniture. And those poorly made ones will only be a hindrance to your home to look more elegant and classy. Buy high-end furniture during sales so you can still save a lot of money even though you just bought a piece of high-end furniture. 
5. Windows Designs
If you are on a tight budget, window treatment is the best choice to make your house look elegant without hurting your wallet. For this budget-friendly upgrade, you can also increase the privacy of your home. Though it is inexpensive to use unlined and flimsy materials, it doesn't add elegance and will look terribly cheap instead. So avoid using see-through materials for your windows.
You can also use curtains for your window to add more details to it. Avoid buying man-made fabrics and polyester as it does not have the elegant look. Try using natural silk instead. And if the curtain is not your taste, there are also other options like using blinds that are made out of wood. This can instantly make your windows more expensive looking, and it will be easier for you to cover and uncover your windows as it had added functionality.
6. Avoid Using Carpets on Both Floors and Walls
Although the carpet is comfortable, it doesn't give a classy vibe and looks cheap instead. What homeowners can do instead is use hardwood. Hardwood materials give a classy and elegant appearance at a budget-friendly price. Not only it is aesthetic, but replacing your carpet with hardwood is a great choice due to its durability. Hardwood materials really last for a very long time. Instead of changing your carpet from time to time, change it to hardwood. The use of dark colors is the best and adds more texture to your house by using rugs to blend the hardwood throughout the floors into the ceiling.
7. Small Details Matters
Small details in the house like faucets, doorknobs, and other small objects can be a big factor in making your house look chic and classy. By doing so, even these little details can get some attention, unlike the usual ones that include a sofa. Nowadays, even outlet covers and wall plates can change their appearance. You can buy wall plates at an affordable price in a lot of varieties such as brushed wall plates that are made of bronze, copper, brass, nickel, or stone.
There are also ceramic plates if you want your house to look even more expensive. Hardware finishes on your house also add more elegance to its appearance. Small details can make your house unique so that every guest will visit your home will be amazed once they noticed it.
8. Add More Accessories
Some may think that adding accessories to your house will only hurt your budget. However, there are a lot of other ways to make your house have accessories without buying a lot of expensive stuff. For example, add mirrors, cabinets, glass tables, picture frames, wall hangs and etc. It is a simple accessory that can have an expensive appearance when chosen properly.
9. Plants and Flowers Design
Adding nature to your house's design is one of the inexpensive ways to do to make your home look classy. You can add flower vases to your table, add little bonsai trees in the corners of your house, and add hanging flower vases to some areas of your house. Having these green decorations in your house also has a function that makes the air you breathe fresher and it lights up your mood.
10. Decluttering and Freeing of Space
To add more elegance to your home, gather things that are unnecessary and do not have any function in your house at all. This can make your house more spacious that will have an expensive appearance. You can also save some money that you can use for other upgrades to your house with this process. You can do a yard sale and sell the things that you no longer use. By doing so, you can have money to spend and a more spacious area for your house.
Improving your house has several ways you can do without the need of spending too much money. It can start with the simplest thing in the house such as decluttering some of your things, cleaning your house, changing your paint color, and more. If you are tight on budget, there are many ways to buy new materials to add to your home. It will just need a little bit of patience to look for materials that are inexpensive but has an expensive appearance.